L. S. Caldwell & Associates, Inc. (LSC) is recognized as one of the foremost firms in the country specializing in the development, implementation, and administration of Contracting, Employment and Community Awareness Compliance Programs. Founder, President and CEO, Loretta S. Caldwell, has been recognized by the Federal Government, New York State, Maryland, Virginia and The District of Columbia for her contributions to economic development. Under her leadersh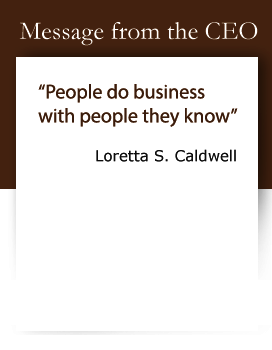 ip, LSC is responsible for the research, development and subsequent creation of Compliance Programs for major corporations and municipalities resulting in billions of dollars in contract opportunities for local, small, minority, disadvantaged and woman-owned firms and employment opportunities for minorities, woman and residents of impacted communities. LSC boasts a staff of professionals dedicated to the implementation of economic development programs that support the policy and regulatory objectives of our clients.
LSC has developed and implemented Local and National Outreach programs, Bonding Programs, Contractor Colleges and Employment Workshops and Forums aimed at improving the capabilities of targeted groups to achieve higher and more competitive levels of performance and capabilities. LSC has developed Compliance Programs applauded by the private sector and recognized by federal agencies such as the Office for Federal Contract Compliance, U. S. General Services Administration and the U. S. Department of Commerce/Minority Business Development Agency.
LSC is a DC Supply Schedule (DCSS) Contract Holder in the following areas:
Temporary Support Services

Engineering and Logistics

Training Services
LSC maintains the following certifications:
District of Columbia Department of Small and Local Business Development


                    Certified Business Enterprise Program




                    Local Business Enterprise  (LBE)




                    Small Business Enterprise  (SBE)




                    Disadvantaged Business Enterprise  (DBE)




                    Resident Owned Business Enterprise  (ROB)



NIGP Codes: 

918-00-00, 918-20-00, 918-32-00, 918-35-00,




918-58-00, 918-75-00, 918-76-00, 918-79-00, 958-00-00, 958-16-00

Metropolitan Washington Airport Authority
       Local Disadvantaged Business Enterprise (L /DBE)






NAICS Codes:

 

541613, 541618, 541720, 541990, 561499

District of Columbia Temporary Supply Service

 

NIGP Codes: 909-33-00, 918-20-00, 918-21-00, 918-27-00, 918-35-00, 918-38-00, 918-58-00, 918-75-00, 918-76-00, 918-79-00, 918-83-00, 918-85-00, 918-88-00, 918-92-00, 918-97-00, 924-35-00, 958-16-00

NAICS Codes: 541613, 541618, 541720, 541990, 561499

 

Virginia Department of Transportation


         Disadvantaged Business Enterprise  (DBE)



NAICS Codes:

  

541611

District Department of Transportation


          Disadvantaged Business Enterprise  (DBE)



NAICS Codes:

 

541611, 541613, 541618, 541720, 541990, 561499

Washington Metropolitan Area Transit Authority


         Disadvantaged Business Enterprise  (DBE)


NAICS Codes:  

541611, 541613, 541618, 541720, 541990, 561499

Maryland Department of Transportation


         Minority Business Enterprise  (MBE)

NAICS Codes:  541613, 541618, 541720, 541990, 561499

Washington Suburban Sanitary Commission




         Minority Business Enterprise  (MBE)





NIGP / NAICS Codes:

  

N/A

Maryland Department of General Services                            
         Small Business Reserve  (SBR)


NIGP / NAICS Codes:

  N/A