PROJECT:




Metropolitan Washington Airports Authority – Dulles Airport Main Terminal Expansion

Location:

Chantilly, VA

Owner:

Metropolitan Washington Airports Authority 

Client:

M.A. Mortenson Companies

Project Goals:




Contracting Goal:


28% Disadvantaged Business Enterprise (DBE)

M. A. Mortenson Company, a Minneapolis based, major construction firm, was the general contractor for the construction and renovation of the Washington Dulles International Airport. Mortenson sought and hired L. S. Caldwell & Associates, Inc. (LSC) to ensure that appropriate Affirmative Action Plan /Equal Employment Opportunity Program strategies were developed and goals met in a timely manner for this project.At sixty percent (60%) project completion, L. S. Caldwell & Associates, Inc. had assisted Mortenson in achieving, ahead of schedule, over $31 million DBE contract awards. The Project ended achieving and exceeding twenty eight percent (28%) Disadvantaged Business Enterprise (DBE) participation Goal. In addition, by implementing innovative employment outreach/training programs, LSC was responsible for Mortenson exceeding the Federal female employment requirement of 6.9%.
In recognition of this outstanding effort, M. A. Mortenson received commendations from the Office for Federal Contract Compliance for employment programs created and implemented by LSC.Within scheduled guidelines, L. S. Caldwell & Associates, Inc. also completed the following tasks, leading to early attainment of goals:
Coordinated the efforts of Prime Contractors and various construction associations and organizations toward DBE identification and development of successful DBE relationships.
Attended pre-construction conferences (with special attention given to those contracts containing DBE goals) to clarify requirements for Condition of Award to DBE contractors and answer questions concerning the DBE programs and services.
Provided instruction on monitoring the DBE's performance and compliance with local, state and federally mandated guidelines as a Commercially Useful Function on projects.
Developed and implemented a Bonding Technical Assistance Program.
Developed programs to inform qualified local, disadvantaged and women-owned construction companies of services available to assist in their certification as DBE contractors.
Planned and implemented a Procurement Trade Fair to inform Women-owned Business Enterprise (WBE) firms of contract opportunities.
Created and implemented a focused workshop, Construction Workshop for Unskilled Females, designed to introduce, train and hire at minimum, thirty (30) females to work on the Dulles Project.
Arranged an executive breakfast with local, small and minority business associations and organizations to introduce them to specific project opportunities and elicit their assistance in identifying their member contractors.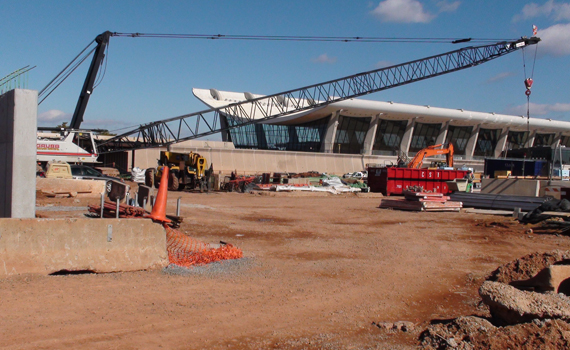 Construction During Main Terminal Expansion